iowabelle

iowabelle is a forty-something recovering lawyer in Iowa. She has been a fan of the British Royal Family since she was five years old. Belle has had graduate coursework in British history.

View all articles by iowabelle
Where To Find Collectibles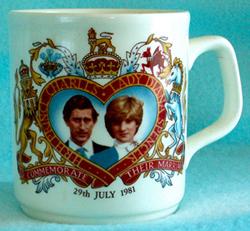 Where should collectors look for new pieces? Obviously, royal collectibles are most readily available in Great Britain and the Commonwealth. For Americans it can be more difficult. If collectors have the chance to travel abroad, adding to their collections should be a priority. Antique shops, flea markets, and "car boot sales" are great places to start. If friends or relatives go abroad, collectors should tell them what to look for (and what to expect as a reasonable price).
For the American collector who has to stay at home, it can be profitable to look in antique shops and malls, flea markets, garage sales, and auctions. I have found some good pieces at small auctions and a few more items listed in local newspapers. The problem with buying locally is that unless you can find a reliable and complete price guide, it is very difficult to determine what is a good price. If two emotional collectors appear at the same auction, they can goad each other into exorbitant bids (so you may have to eat tuna sandwiches for a few weeks, but you got the commemorative teapot!).
There does not seem to be a recent reliable and complete guide for Princess Diana memorabilia. In the early 1990s I owned a guide to royal memorabilia, but it had only a small section about the Princess. Obviously, the number of collectibles has grown since then and values will have changed. In 2000 Charles Nobles issued his Diana: Collecting on a Princess. I bought a copy but did not find it very useful. I recently discovered that there are two guides relating to Princess Diana items on eBay (which may be located under the "Reviews and Guides" section). One gives a detailed discussion of the history of the dolls and various makers, including the Franklin Mint controversy and the possibility of a Diana "Barbie doll" issued by Mattel; the other is about the sale of replica gowns for the Franklin Mint doll. Neither guide discusses prices, but collectors may enjoy reading them.



Collecting on eBay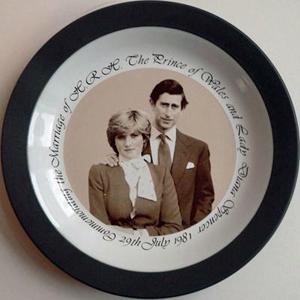 Without a reliable price guide, collectors should look for dealers of royal memorabilia and browse eBay. In my opinion eBay is probably the best place to study the value of these collectibles. eBay is a competitive market. It is possible that several dealers will have the same item available, lowering the price. (Here in Des Moines, Iowa, few sellers stock royal collectibles so it is a sellers' market.) On the other hand, a collector may be competing against many other Diana collectors or cross-over collectors. eBay is the essence of "supply and demand." Even if the collector is not bidding, the eBay listings are a wonderful opportunity to study the market. But most collectors will find eBay irresistible, with the unlimited opportunities to find new pieces in any price range. Purchasing on eBay does have its drawbacks. The collector cannot examine the item in person and must rely on the seller's photographs or descriptions. It may take several weeks before the item arrives in the mail. The collector also relies on the merchant's honesty when assuming that the item will be sent as promised. (I have only had one problem with a memorabilia dealer not sending my purchase.) Packaging and treatment of the item by the postal service is another consideration. Collectors should consider purchasing insurance against breakage and loss. Postage and insurance should be considered in the total price. It may not be a good investment to have an item mailed, particularly from overseas, if insurance and postage are more expensive than the item itself.
eBay can be overwhelming for the inexperienced collector. If the collector types "Princess Diana" in the Search field, thousands of items will be listed. (There are hundreds of photographs, postcards, and postage stamps listed.) I have found that the easiest way to sift through the list is to find an item similar to what you are searching for, pull up that item, and then search for items related to it. For example, plate collectors might see a plate they like, click on that listing, and see the description. In the top part of the screen, just over the item listed, are these prompts: Collectibles, Historical Memorabilia, Royal Memorabilia, and Other. Click on "Royal Memorabilia" and type in "Princess Diana plates" or, for a wider listing, "Princess Diana." It is also a good idea to search for "Princess of Wales." Once the collector has a good list, the items might be sorted according to price (highest or lowest), date the item was listed, or date the auction ends. I like to sort according to the highest price, some of which are items with high opening bids (and no current activity). It is also interesting to see which pieces are highly desirable. My second favorite list is by auctions ending soonest. That allows me to see what the finishing prices are likely to be.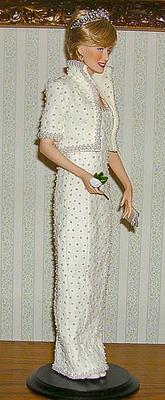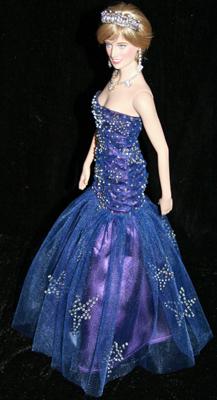 Some of the items listed on eBay would be attractive to most collectors. Yesterday (22 August 2007) an auction for a Diana dress ended on eBay. The dress was the beautiful ice-blue Princess Grace-type gown and stole worn by Diana in 1987. She appeared in Cannes wearing this dress, allegedly shortly after she was told that Barry Mannakee had died in a motorcycle wreck. WE, the U.S. television network, had set an opening bid of $125,000 for the dress. Unfortunately, no one bid. In my opinion, even given the history of the dress, the opening bid had been set too high. Although it was a breathtaking dress, it was nowhere as famous as the "Travolta dress" or the "Elvis dress." But similar items, or other items owned by the Princess, do appear at auction or for sale from time to time. Collectors should be very careful when purchasing these items because their value is linked to the provenance of the item. Provenance is a fancy word that basically means "the history of this item." Who owned it? What is the story behind the item? In the case of the icy blue dress, the story behind it can be established. WE bought the dress at the Christie's auction in 1997 and carefully conserved it. The Princess donated the dress for the auction. The Princess was photographed several times wearing the dress. Inside the dress was Catherine Walker's label "Chelsea Design Co. Ltd."
As I write this (23 August 2007), there are several eBay items listed as being directly connected to the Princess. A faux pearl choker, given by the Princess to a friend who was director of a charity, along with a letter of authenticity from the charity, was listed at $499.95, with no bids. A signed photograph with a personal note inscribed, together with a certificate of authenticity, was being fought over by three collectors with a current bid of $425. (The signed photograph was a thank-you gift to a photographer who had accompanied the Princess and her sons to Thorpe Park on that famous outing.) A very sad Christmas card from 1992 was listed at $299. A diary given to Sarah Jane Gaselee (one of Diana's bridesmaids), inscribed and with an accompanying signed gift tag, was available for $5,000. Eleven bidders were competing for a lock of Diana's hair (and its certificate of authenticity); the current bid was $100.00.

The 1992 Christmas card for sale was, according to the seller, one of the few genuine Christmas cards actually signed by the couple that year. As we all know, 1992 was the "annus horribilis" and royal customs were probably disrupted. (It seems that members of the Royal Family do actually sign their Christmas cards, in contrast to American presidents.) Authentic Christmas cards and letters from Diana do get listed for auction. Collectors should, however, treat signed photographs and autographs with caution. Most of these items, even with a "certificate of authenticity," are mere facsimiles. It would, in my opinion, be unwise to trust the authenticity of written items unless they are accompanied by envelopes, supporting documents, and good provenance. For example, many royal retainers (housekeepers, butlers, and others) have regularly received Christmas cards, and these items are sold when the retainers die or when they need to make money. In those instances, the purchaser can obtain good provenance.
Buying from Dealers
One dealer, the owner of the Sarah Jane Gaselee diary, has a huge collection of material available for sale on eBay or at her own site. Alicia Carroll has advertised her Diana memorabilia for sale in magazines for many years. Interested collectors can find her store online at www.everythingroyal.com. Ms. Carroll seems to have a talent for acquiring letters and other Diana items, including a bracelet that Diana gave to Sarah Jane Gaselee. Although some of the items described on-line have been sold, they make for interesting reading. One poignant 1984 letter was written to Betty Andrews, who worked for the Spencer family from 1945 to 1981, on official Kensington Palace stationery. Diana wrote about how much William adored his little brother. The letter is priced at $25,000.00. Ms. Carroll also has many Christmas cards available for sale. Unfortunately this wonderful site is in the process of closing down. However, collectors can find other online stores simply by searching for the keywords "royal collectibles." I have come across several other interesting online antiques sites, which include www.steptoesantiques.co.uk, www.antiquesofengland.com, www.glassmenagerie.com, www.glamorganantiques.com, among others.

Collectors should remember to ask overseas sellers whether they ship abroad and, if so, how much shipping and insurance will add to the cost of their purchases.
I hope you all enjoy the hunt for your Diana collectibles. If you have any questions, I would be happy to discuss them with you in this thread at The Royal Forums.


Photo Credits
Photos on page 1 taken by members of The Royal Forums and used with permission.
Photo of commemorative mug taken by Flickr member Ennor and used with permission.
Photo of commemorative plate taken by Flickr member Rink a dink and used with permission.
Photo of "Elvis dress" doll taken by Flickr member BlueEyes5 and used with permission.
Photo of doll in blue dress taken by Flickr member Anita.N.-dolls-fashion-design and used with permission.

Spread The Word