Over the past centuries, monarchies have had an unwritten (and sometimes written) rule that required the monarch and those in the line of succession to marry a spouse from a royal or at least noble family. In most cases, royal families arranged marriages to strengthen the power or influence of the royal house by making strategic alliances, and they did not take an individual's personal feelings or preferences into consideration. This attitude started to change a few decades ago, with more and more monarchs deciding to marry for love regardless of the status of their spouse, and allowing their heirs to do the same.

Consequently, commoners joined the royal circle and had to become familiar with the arcane rites and mystique that have always surrounded kings and queens, as well as the stress of living their lives in public and being the subject of relentless attention from the media.

While many of the current kings and queens fell in love with a royal or noble spouse, some decided to marry a commoner despite the prevailing royal preference for equal marriages. If we look more closely at some of the commoners who married into the current generation of rulers - Grand Duchess Maria Teresa of Luxembourg, Queen Sonja of Norway, and Empress Michiko of Japan - we can see clearly that these women faced major problems gaining respect within their royal houses, and as a result they underwent a long struggle in striving for acceptance. Other commoners - Queen Silvia of Sweden, Queen Rania of Jordan, and Lalla Salma of Morocco - have been more fortunate, and their contributions have been readily acknowledged.
Royal Challenges

Henri and Maria Teresa of Luxembourg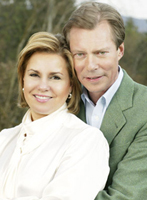 Born in Havana, Cuba, Maria Teresa Mestre met her future husband, Prince Henri, Hereditary Grand Duke of Luxembourg, during her studies at Geneva University. They married in 1981, and from the beginning there was tension in the relationship between Maria Teresa and her mother-in-law, the Grand Duchess Josephine-Charlotte, as Josephine-Charlotte had wanted her son to marry a woman of equal status. A university degree in political science and a strong Catholic faith did not make up for Maria Teresa's lack of blue blood in the eyes of Josephine-Charlotte; this attitude prevented the two women from forming a warm and genuine relationship. Over the years, Maria Teresa suffered a great deal because her mother-in-law thought she was unsuitable as a future Grand Duchess. Maria Teresa even took the unusual step of talking about the relationship to journalists at an informal meeting, where she related how Josephine-Charlotte had managed to make her life a misery throughout her marriage. However, once Henri succeeded his father, Jean, as Grand Duke of Luxembourg in 2000 and Maria Teresa became Grand Duchess, she proved successful and much respected in her new role. Maria Teresa, a mother of five children, has dedicated herself to social issues in her country, in particular to those that involve children and families, and continues to show her commitment to different organisations related to humanitarian causes.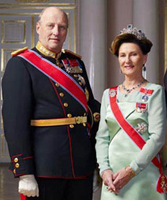 Harald and Sonja of Norway Sonja Haraldsen, a commoner from Oslo who became involved with Crown Prince Harald of Norway after meeting him in 1959 at a party, also had to fight for acceptance by the royal house. Harald's father, King Olav V of Norway, had tried to persuade his son for years to marry a lady of royal birth; he did not have any objections to Sonja herself but feared that marriage between the Crown Prince and a commoner could have a negative impact on the young Norwegian monarchy. However, Harald stayed firmly committed to Sonja. He finally obtained his father's approval nine years later, and he and Sonja married in 1968. For over 20 years as wife of the heir to the throne, Sonja found many opportunities to prove herself to be a worthy Crown Princess alongside her husband. They supported the King by travelling throughout Norway and to numerous foreign countries while they also enjoyed an untroubled family life as heirs to the throne with their two children. In addition to performing her duties, Sonja continued her studies and earned a BA degree from the University of Oslo. Since their accession to the throne in 1991 as King Harald V and Queen Sonja, the couple have toured throughout Norway and travelled internationally to establish themselves as monarchs. They have also deepened their commitment to their country, living according to Harald's motto "Alt for Norge" - All for Norway.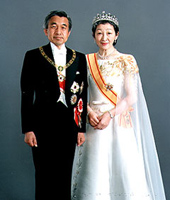 Akihito and Michiko of Japan In addition to the struggle for acceptance and respect, Michiko Shoda, the daughter of a wealthy manufacturer from Tokyo, found it difficult to adapt to the protocol and the traditions of the Japanese Imperial House when she married the Japanese Crown Prince Akihito. The couple met on a tennis court in 1957 and married two years later. Michiko had attended a Tokyo university, earning a Bachelor of Arts in English literature, before she became the first commoner to marry into the Japanese Imperial Family. This was significant because for the first time, an heir to the Japanese throne had chosen his wife himself instead of letting the Imperial Household Agency select his wife for him. Although Akihito's parents and Japanese traditionalists were not pleased by his choice, Akihito stood by his decision. But Michiko found life at the Japanese court difficult, with its ancient traditions and inflexible protocol, and her lack of access to the public isolated her even further. Michiko tried to adapt to her environment but denied her own personal needs for the sake of her imperial position and damaged her health in the process. Over the years, she has suffered from stress and nervous breakdowns, causing her to lose her voice on a few occasions. Fulfilling her role as Empress, wife, and mother as dutifully as possible always came first for Michiko, who shares three children with Akihito. She supported her husband, who became Emperor in 1989, when he started to modernise the Imperial House of Japan by making the Imperial Family more accessible to the public. However, the process of change only proceeds very slowly, and there is still a long way to go.


Royal Success Stories

Despite the problems faced by some of these couples, a marriage between a royal and a commoner can be a very fortunate occurrence. Queen Silvia of Sweden, Queen Rania of Jordan, and Lalla Salma of Morocco have shown that a commoner can bring a breath of fresh air into a royal house and increase its popularity, thus strengthening the monarchy.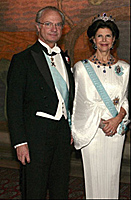 Carl Gustaf and Silvia of Sweden Silvia Sommerlath from Heidelberg, Germany, was born and raised in an international family; her father was a business executive from Germany and her mother was from Brazil, where Silvia spent the main part of her childhood. She met Crown Prince Carl Gustaf during the 1972 Summer Olympics in Munich, a year before he became King Carl XVI Gustaf of Sweden upon the death of his grandfather, King Gustaf VI Adolf. If Carl Gustaf had married Silvia during the reign of his grandfather, he would have lost his position as Crown Prince, for Gustaf VI Adolf had strongly believed that royals should only marry royals. After dating secretly for almost four years, Silvia and Carl Gustaf were married in 1976. Back in those days, the future for the new King of Sweden did not look bright at all. Sweden was on the verge of becoming a republic, and Carl Gustaf, who lacked charisma and did not have his grandfather's authority, appeared to be more interested in women and cars than in his duties as King. With her charm, charisma, and abilities in languages (she had been an interpreter when she met Carl Gustaf), Silvia overcame these problems to win the hearts of the public. She was also well received by the extended family of Carl Gustaf, who had lost his parents at a young age. Silvia, who gave birth to three children, became very popular in Sweden and has been an active Queen with a special commitment to children's issues. Over the years, the couple have managed to enhance the King's profile, which at one time had been very low. Today, the future for the Swedish monarchy looks bright indeed, thanks to Silvia and Carl Gustaf, who embody Carl Gustaf's personal motto "För Sverige, i tiden" - For Sweden, with the times.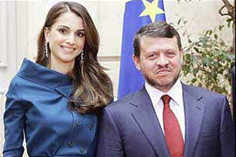 Abdullah and Rania of Jordan While most commoners can look forward to a more or less predetermined future when they marry the heir to the throne, the experience of Queen Rania of Jordan demonstrates how life can occasionally take an unexpected turn. When Rania Al-Jasin, born in Kuwait to Palestinian parents, met and married Prince Abdullah bin Al-Hussein of Jordan in 1993, she could not have expected to become Queen of Jordan only six years later. Prince Abdullah had been pursuing a military career when his father, King Hussein I of Jordan, named him the Crown Prince. Only two weeks later, the King died and Abdullah acceded the throne as King Abdullah II of Jordan. As Queen, Rania shared the limelight with her husband right from the beginning, unlike previous Arabian queens who had played only a low-key role in the public eye. Taking advantage of her good education (she holds a degree in business administration) and pleasant appearance, Rania has created a more active role for herself: one that emphasises a commitment to charitable issues related to children and women's rights as well as other issues. Her dedication and efforts with King Abdullah II to put their country on the global stage has earned Rania - despite her Palestinian origins - the love and respect of the Jordanian people. Today, Rania, who has four children by Abdullah, has become one of the most recognizable queens worldwide and a well-known trademark for Jordan. She is a priceless asset for the future of the Jordanian monarchy.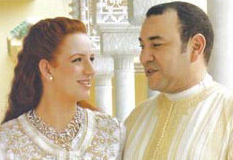 Mohammed and Lalla Salma of Morocco Rania's popularity may have smoothed the way for another commoner who married into an Arab royal house, Princess Lalla Salma, wife of the King of Morocco, Mohammed VI. Mohammed had been proclaimed King in 1999, shortly after the death of his father, King Hassan II. Lalla Salma has become the first wife of a Moroccan ruler to be publicly acknowledged and given a royal title. Although it is not known where the couple met, their marriage, which took place in 2002, was not an arranged one. Born as Salma Bennani in Fez, Morocco, Lalla Salma has become a role model for modern women in Morocco: first as an exceptional student with excellent grades and a degree in computer science and today as a princess consort who represents a new generation of women who, while living modern lives, do not disregard Morocco's culture, traditions, and history. Although Lalla Salma, who has given birth to two children, has kept a much lower profile than Queen Rania so far, she carries out her own royal duties and also assists her husband in representing Morocco.
Conclusion
When we look at these six examples of women who married into royal houses as commoners, we can see clearly that, regardless of their origins, the right person must be at the right place at the right time. Success or failure depends very much on the present circumstances of the monarchy, the monarchy's background and history, the attitude of the royal house and the public, and the traits of the future spouse. For a commoner marrying into a royal family, a strong and adaptable personality is essential to be able to deal with conditions which can be very inflexible in some cases. He or she also needs to learn fast, handle the scrutiny of the media, and win the acceptance of the public, the key for the monarchy to survive. It also helps to have a robust physique and psyche, as the job can be physically and mentally demanding.

So there is no reason to reject the prince or princess of your dreams – just go for it and make the best of it!


Photo Credits
Grand Duke Henri and Grand Duchess Maria Teresa: Photo by Manuel Dias, reprinted with permission from the Luxembourg Grand Ducal Court.
King Harald and Queen Sonja: Photo by Cathrine Wessel, reprinted with permission from the Norwegian Royal Court.
Emperor Akihito and Empress Michiko: Reprinted with permission from the Imperial Household Agency.
King Carl Gustaf and Queen Silvia: The Nobel Prize award ceremony; public domain.
King Abdullah and Queen Rania: Photo by a government official; public domain.
King Mohammed and Princess Lalla Salma: Reprinted with permission from the Royal Court du Famille Royale du Maroc/Marocinfo.net.