Marengo

Marengo is a history student from Amsterdam with a special interest in Portuguese, Napoleonic and Dutch royals.
View all articles by Marengo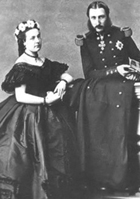 Princess Louise Marie Amélie of Belgium (18 February 1858 - 1 March 1924) was the eldest child of King Leopold II of the Belgians and Queen Marie-Henriëtte (born an Archduchess of Austria). Her birth was a severe disappointment to her father, who had hoped for a son. Princess Louise grew up at the court of Laeken, and had a spartan upbringing, slightly brightened by the moments she shared with her younger brother Prince Leopold and her younger sister Princess Stéphanie. At court the princess was given the nickname 'Madame Pourquoi' as she was very curious and usually wanted to know everything that was going on. Louise's father was a cold man who had very little interest in his wife and his daughters; the little love that he could share he strictly reserved for his son. It was said that Marie-Henriëtte preferred horses over people, though she treated her children somewhat better than her husband did. Every day the family had lunch together at half past one. Ten minutes before the lunch started, the Queen asked her children's governess about their behavior, and any misstep had to be mentioned and punished. After this the queen usually took the children to the study, to fetch the king for lunch. The girls curtsied and kissed their father's hand, and the King would touch their forehead. "No kind word, no sign of greeting came over his lips" his daughter Stéphanie would write later. In an unbroken silence they had their meal, after which the family went to the King's study where Leopold II would smoke a cigar while Marie-Henriëtte read the newspaper. The children meanwhile had to stay near the window, whispering. "When we were finally allowed to leave we would run through the corridors and down the stairs, ecstatically happy to be released from our parents for a few hours," one of them would later write.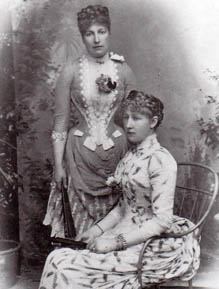 Not only was the royal couple's relationship with their children difficult, but the marriage between Leopold and Marie-Henriëtte was very cold too. Princess Louise would later write, "they both lived their own lives, neither physically, rationally or psychologically was there any connection between them. (...) As far as I can remember he was always the same egocentric, silent man to her". Louise confessed she could not remember one sign of friendliness or affection for her mother from the King. As a result the once so carefree Marie-Henriëtte sought solace in an active daily life and a stern piety. She still retained some of her good-natured charm, and even her daughters spoke about her "generous open character". Marie-Henriëtte raised her children 'the English way', which meant that they slept on hard beds, washed themselves with cold water, and had very little furniture in their room. The Queen took care of her children's religious upbringing herself and also of the punishments. Princess Stéphanie tells in her memoirs how once she was made to kneel on dried peas for an extended time with bare knees and that she was locked up in a dark room for hours or days. 'Neither sighs, nor tears or promises of better behavior could soften my mother and release me from my horrible imprisonment". However the queen also showed her softer side to her children; she told them about her childhood in Hungary, talked about the endless pusztas, and played melancholic gypsy music. When the Queen had an official duty at night, she sometimes allowed her children to see how pretty their mother looked: "she looked like a fairytale figure and I was not able to hold my tears" her daughter Stéphanie would later write. In 1868 Louise's brother fell in a pond at Laeken and developed pneumonia, which resulted in problems with his heart. The prince's life was in danger for months, and on 22 January 1869 the young Leopold died. As the king needed an heir, he and queen resumed marital relations and in 1872 a girl was born, princess Clementine. "The king was furious," Louise later wrote, "and he refused to have anything to do with the woman, to whom God refused a son, any longer."
Louise grew up to be a curious child, lively, sensitive and a born liar, who was very well aware that she had been neglected by her parents. Later she would say that when she was 10 her father caught her while she was hiding a love letter that her mother received from an admirer. As she refused to show her father the letter, he held a grudge against Louise for the rest of his life. This story is rather unlikely because Leopold could just have taken the letter from her, as she was only a child. In 1874, at 15 years of age Louise got engaged to her second cousin, Prince Philip of Saxe-Coburg-Gotha, who belonged to the wealthy Hungarian branch of the Coburg family and who was 14 years older than his bride-to-be. Louise later claimed that Philip used to be one of her mother's former lovers, but there is no evidence to support this story.
Married Life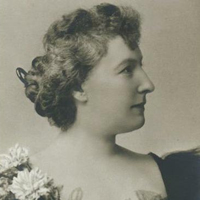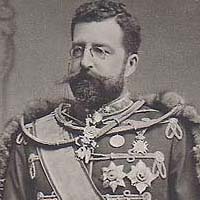 The couple married on 18 February in 1875. After the wedding, the inexperienced Louise quickly found herself waking up in a nightmare. On her first night with her husband she ran away barefoot from their bed and hid herself in the glasshouses of Laeken. Nobody had told her what would happen in the bedroom, and the princess wrote in her memoirs: "I am sure I am not the only woman who lived on pink clouds during her engagement time but who was thrown on the floor abruptly after the wedding night, who escaped humanity, got mentally hurt and in tears." A cavalier found her among the camellias in the greenhouse and took her to her parents. Leopold didn't bother to get out of bed, but Queen Marie-Henriëtte tried to comfort her daughter. While crying, the Princess told her of her shock, but she had to promise her mother that next time she would be less uncooperative as the queen enlightened her daughter about the marital duties. Louise's own version of this story is harsher: "I listened while she yelled at me, she tried to make me do what were my duties. (...) I didn't dare to protest and point out that this was completely different from what she used to tell me". Prince Philip later tried to get his wife to relax a bit with alcohol, erotic literature and images from his art collection "at which a young woman cannot look without blushing."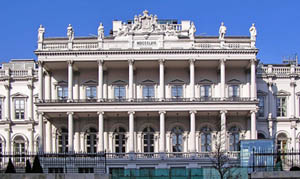 After her marriage the Princess moved into the Palais Coburg in Vienna, far away from her familiar and safe environment. Her mother had already told her many stories about the Habsburg court, but still it was very different from what she expected. She was dazzled by the glitter and glamour which seemed without end. Due to her birth and marriage she was allowed into the close circle around the emperor and the - usually absent - empress. The couple enjoyed being allowed to sit at the Imperial table and receiving many important courtesies. The Princess quickly started to enjoy her new cosmopolitan life in Vienna to the fullest.
Her husband taught her how she had to fulfill her duties as an adult. The Princess was given a serious makeover and took pains to be ostentatiously glamorous. Crown Prince Rudolf was delighted by her good nature, and Emperor Franz-Joseph admired her figure and said she would make an excellent Prussian grenadier. According to Louise he even asked her to buy clothes for his wife. The Tsar of Bulgaria went even further and offered her his whole realm, himself included. When Louise visited Brussels for the first time after she had left, her sister Stéphanie was surprised by her transformation: "My sister Louise is not the same anymore. She has other interests, is an admired and celebrated woman." Apart from these lessons about style, Louise also had become fully used to marital pleasures. The "lessons" were so successful that it was said that no man at court was safe from Louise's advances. This lifestyle worried Louise's mother, who received extensive reports from her Habsburg relatives on her daughters scandalous conduct. Marie-Henriëtte did everything she could to make her daughter live a more sober life, but much to the Queen's despair Louise did as she pleased, which led the Queen to confess, "Louise is a monster, she belongs in a madhouse!" The Austrian press soon compared her to Lucrezia de Borgia, Cleopatra, and Ninon de Lenclos.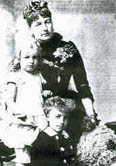 In the meantime Prince Philip merrily went on partying as he had before his marriage; he didn't take his vows too seriously and was very promiscuous. It was no surprise that gradually Philip and Louise drifted apart. Especially after the birth of their son Leopold and their daughter Dorothea, the couple became more distant. By all accounts, Louise, rather like her own mother, was not a very loving mother herself. It was even said that she didn't show the slightest interest in her children. According to one of the governesses of her children, she was more interested in looking in the mirror than in attending to the education of her children. She often sat in the garden, looking at herself in a mirror for hours and at all angles. "Narcissus himself could not have parted from his image with more displeasure," the governess judged. "If Louise wasn't busy with herself she spread slander about others, it was said she had a low character," she continued. This behavior made Louise the talk of Vienna. Theodor Herzl, who would later be the pioneer of Zionism, once saw Louise seated in her loge at the theatre, all covered in jewels. He turned around to one of his friends and whispered: "Eve after the fall of man."
Spread The Word