iowabelle

iowabelle is a forty-something recovering lawyer in Iowa. She has been a fan of the British Royal Family since she was five years old. Belle has had graduate coursework in British history.

View all articles by iowabelle
Introduction


I began collecting royal memorabilia in the early 1970s. My first "purchases" were actually gifts from my parents. We had wandered into a little store, "Trash and Treasures," in the French Quarter of New Orleans, where my reluctant parents paid for a small mass-produced tumbler from the 1937 coronation of King George VI and Queen Elizabeth, later known as the Queen Mother. The other purchase was a teacup with matching saucer and plate, commemorating the coronation of Elizabeth II. It too was a mass-produced item, with a poor decal of the new queen in a riding habit uniform (probably worn at The Trooping the Colour during her father's reign). Both purchases were probably overpriced, but for my parents it was an investment in family harmony.

Given my interest in the British Royal Family and the fact that I fell in love with Diana Spencer the first time I saw her, it was only natural that I would begin collecting Diana-related memorabilia. I refer to this collection as "Dianaana." My Diana collection began with Diana's early appearances in People magazine and the book Invitation to a Royal Wedding. It later grew to include several of the many items mass produced for Diana's wedding in 1981, as well as a few of the commemorative items produced in 1997 and later. My favorite pieces had to be a red powder compact with powder still intact, decorated with the Prince of Wales' crest, and a Charles and Diana linen tea towel (allegedly when Lady Diana thought about backing out of the wedding, her sister told her that it was too late because her face was already on the tea towels).
Getting Started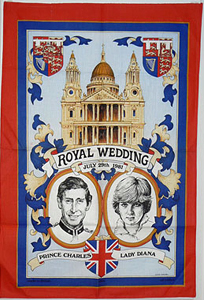 Why would anyone want to collect items about the late Princess? The reasons are probably as varied as the collectors themselves. Some people look at collecting as an investment in the future. Others like the thrill of the hunt, the challenge of looking through an entire flea market for the perfect thing. Some collectors want to be reminded of the "good old days" and happy times. And some collectors, including me, are probably just captivated by the Princess, with her beauty and her humanity, her vulnerability and her flaws.

Diana admirers can grow collections to suit any budget. Collectors should be warned that they are unlikely to see a significant return on their purchases unless they concentrate on the more expensive and limited-edition items or items desired by collectors in another field (cross-over collectibles). For example, commemorative Wedgwood pieces are desired by both Diana collectors and Wedgwood collectors, thus increasing the prices for these pieces. As a general rule, collectors should only collect the items they like, not try to collect as an investment.

From my observations of eBay and articles I have read, items produced after the Princess's death in 1997 have not increased in price and some have actually decreased. Among these are the numerous items produced by the Franklin Mint in the United States, including plates, music boxes, and dolls with separately packaged clothing. The Franklin Mint items were highly publicized after the Princess's death, and some (such as the dolls and ensembles) were sold by subscription only, creating a rush among buyers. This caused me some anxiety because I desperately wanted the doll and clothing but was unable to make the significant monthly commitment to purchase the complete set. However, the Franklin Mint items, including the dolls, are sold on eBay every day at prices equal to or less than their original sale prices. The only exception to the static value of the Franklin Mint items are the dolls and clothes which have been kept "mint" in their original boxes and packaging. "Mint" means that the items have never been removed from their boxes, a standard which would be difficult for most Diana collectors to preserve. After all, if you have a lovely Princess Diana doll, wouldn't you want to dress her in those beautiful and memorable clothes?

Building an Inexpensive Collection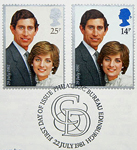 For collectors with less money to invest, there are many items available. Some of the most popular inexpensive items are magazines and books, postcards and posters, and postage stamps.

Princess Diana publications can be found anywhere, particularly in used bookstores, antique shops, flea markets, and the Internet. It is possible to find interesting books discarded at local libraries for a reduced price. I noticed immediately after Diana's death that early books, dated 1992 and earlier, tripled in price at my local used bookstore and antique shop. Those books did not sell at the inflated prices, and merchants in my area have reduced their prices to a reasonable level. Unfortunately for speculators, Diana books will probably follow the rules that govern the general sale of books – used books don't appreciate in price unless they are first editions, have been signed by the author or Diana, or have some other rarity associated with them. The priciest books related to Diana are those few she signed for the auction of her dresses. On 22 August 2007, I checked eBay and found that two unsigned copies were being auctioned. An American seller had a paperback copy available, and the only bid was $200.00. An English seller had a rarer hardcover edition for sale, and eleven bidders were vying for it; the current price was £255, below its reserve price.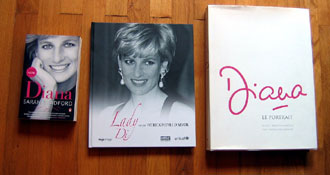 Any serious collector of Diana books should own both the 1992 edition of Andrew Morton's Diana: Her True Story and the revised edition from 1998, and possibly also Jonathan Dimbleby's 1994 biography of the Prince of Wales. The 1992 edition of Diana: Her True Story finally revealed the depths of Diana's unhappiness, and the Dimbleby biography was Charles' rebuttal. The revised Morton edition in 1998 surprised some of us with the revelation that Diana herself had been Morton's informant. These three volumes chronicle the rocky beginning and the dismal end of this royal marriage, from the viewpoints of Diana and Charles and their loyal and not so loyal followers. Another book of interest, which may be unknown to British collectors for legal reasons, is Wendy Berry's The Housekeeper's Diary. Mrs. Berry, who was the housekeeper at Highgrove, was one of the first to know that the Wales's marriage was disintegrating as she looked after Diana and Charles's special guests, James Hewitt and Camilla Parker Bowles.

Another area of low-cost collectibles is art. Many admirers of the Princess have printed or drawn images of her. Some have even sold posters or silk screens based upon their original artwork. The value of these pieces varies widely, as does the ability of the artists. Once again, the rule is that collectors should buy what they enjoy. On 22 August 2007, two pencil drawings of the Princess were available on eBay and the beginning bids ranged from $3.50 to $35.00. On the same day three paintings were available: an attractive painting had a single bid of $45.00, a Chinese-produced reproduction of Warhol's representation of Diana in her formal engagement photograph had no bids at $9.99, and Diana in her Elvis dress had no bids at a mere $18.99.

Collectors may also find unframed posters of Diana or relating to Diana. I purchased two of my favorite items, posters of some of the auctioned dresses, at the Dresses for Humanity Tour in Omaha, Nebraska. Framing and mounting the posters cost much more than the actual posters, which were beautiful.



Stamps are another low-priced collectible available to most of us. Collectors should try to find stamps in both mint (non-canceled) and used condition, as well as first-day covers. Stamp shops may have beautiful single stamps, sheets of stamps, as well as covers featuring Diana. At one collectibles show I found two sheets of Diana memorial stamps, both matted and framed, at a very reasonable price. One of them featured Diana wearing several of the Christie's dresses. Some of my favorite local finds were single stamps which had been made into decorative pins. More ambitious collectors can find large albums featuring first-day covers of stamps issued for the royal wedding in 1981 by Great Britain and the countries of the former British Empire.

More Expensive Collections
One of the largest areas of my collection consists of commemorative plates, cups and beakers, and other china. Commemorative royal china has a long history in England, going back to at least 1688. A huge number of commemorative china pieces were sold in 1981. The quality of these items varies widely, but unless they were made by a famous company such as Wedgwood, prices have remained reasonable for the collector with a small budget. In addition to 1981, other pieces were issued in 1982 and 1984 to commemorate the births of the young princes, in other years to mark royal tours, and again in 1992 and 1996 to mark the official separation and divorce. Then in 1997 there was the flood of commemoratives to mark Diana's death.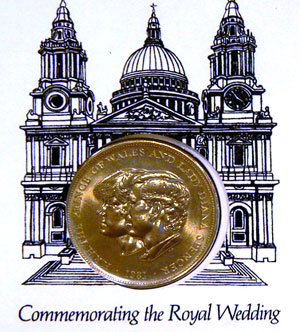 I prefer to collect items from the happier times, together with items that make me laugh. I find caricatures to be especially interesting. Who could resist eating boiled eggs from egg cups crafted in the shape of Charles' and Diana's heads, or wearing the caricature slippers popularized by the TV show Spitting Image? Seriously, these egg cups will be sought by egg cup collectors, while the slippers are sought by fans of the show or by collectors who are interested in the history of television. (The slippers are available from Miss Martha's Collectibles at www.tias/com/stores/mmch/ for only $35.) Another item which I have coveted for years was the pair of Charles and Diana dolls in their wedding outfits, which were produced for the wedding in 1981. (I remember reading one article which advised buying the 1981 Diana bride doll, as opposed to any of the later dolls, if you are considering buying your dolls for investment purposes. The author of the article claimed that collectors would not want to own the later dolls. The rationale might have been that the 1981 doll commemorated the wedding, whereas the later dolls were memorial pieces or an attempt to profit from the Princess's death.)

A final area of collecting, that will vary widely in price, is photography. A few years ago I purchased some photographs of Diana and Ken Wharfe, taken by an amateur photographer. The photos were fairly inexpensive, and I have enjoyed them very much. However, purchasing photographs can cause problems for the collector. Unless the purchase includes the copyright to the image, the collector does not have the right to reproduce the photographs without permission, and credit must be given to the photographer if the photographs are used. In my case, if I chose to post the photos on The Royal Forums, I would have to ask the photographer's permission to do so. In addition, I could not use those photographs for personal profit. Copyright laws can be difficult to understand, but the collector must know that using another person's photograph is like plagiarizing an author's book. Unless the purchase contract specifically includes the copyright, the collector has not bought the copyright and should be cautious about the use of photographs. eBay has hundreds of photographs of Diana available, some of them "signed" (almost always a facsimile signature). Collectors can buy and enjoy them, and these photographs should not be expensive to acquire. If the item is "signed" or "autographed," unless it comes with provenance, the collector should expect these items to be facsimiles and NOT genuine autographs.
Spread The Word